Sneakers Basic Rosse
Product Code: 240RO
Reward Points: 2
Price in reward points: 30
Availability: In Stock
Basic sneakers in cotton with a sole and thick midsole with tone sur tone strings. The tone sur tone rubber sole is elegant and practical, easily washable with a wet cloth. Rubber toe cap and soft upper. The Basic Red Sneakers in cotton are breathable, so you will feel comfortable all day even on the hottest days thanks to the thin tongue. The Basic Red Sneakers, besides being versatile, are a great choice for your daily wardrobe. They can be combined with jeans, pants, dresses and skirts in different styles. You can also wear them with knitted dresses or delicate and airy skirts or sweaters. The Red Basic Sneakers in fabric will help you give life to elegant outfits for different situations. Fabric shoes are a great shoe for city walks, evenings for shopping or aperitifs in the roof garden. The Red Basic Sneakers are accompanied by a comfortable fabric bag, with 2 front pockets and white rope for closure.

---
Size Guide:
MEASURE YOUR FEET

Wear the type of socks that you usually use with shoes and take measurements in the afternoon (usually your feet tend to swell during the day). Distribute the weight evenly before taking measurements.
A.
Stand on a hard surface with your heel against the wall and place a sheet of white paper under your foot.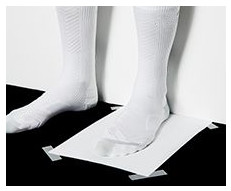 B.

With a pen or pencil mark on the sheet of paper, or ask someone to do it for you, the longest points of the foot (from the tip to the heel). Repeat the operation with the other foot, as the measurements of the right and left feet sometimes differ.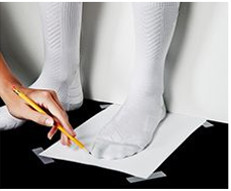 C.

Use a ruler to measure the marked length for each foot.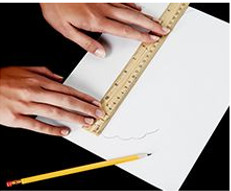 D.
Discover your size, comparing your measurements obtained with the table below.